When: 21st October, assemble from 8:30, mass start around 9:30am.
Where: St Pauls School/Pine Rivers Park, assemble off Attunga St
What: Club Relays and/or OQ Award Luncheon
Join us for the annual Club relay competition combined with the awards luncheon for the Orienteering Queensland Annual Awards. Last year's event was a big success and this year we will use a similar relay format and luncheon program. Last year Enoggeroos won the coveted 'Golden O Shoe' and so this year, as the relay organisers, Enoggeroos can jerrymander the calculations so that we will win again! Any challengers? All clubs welcome.
Enter on-line for the relays and the luncheon through the Event Calendar page. Look in the Bulletin for more info.
Hope to see you there
Lynda Rapkins, Event Organiser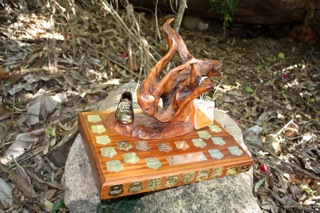 The coveted 'Golden O shoe'
---