Ugly Gully is looking forward to hosting next year's state championships approx. 40 minutes from Brisbane! Days 1 and 2 will be at the same venue.
Next year's event will be in early August and it will be cool and it will be fast thanks to some recent burning (see photo). This will be a world class event literally just down the road and it is not the time for your out of town mother-in-law to come visiting (unless she happens to be a keen orienteer). More posts to follow in the New Year.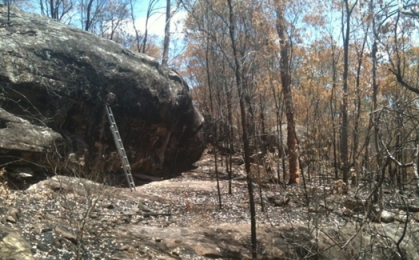 Photo courtesy of mapper Geoff Peck. The owner of the ladder and the reason for the ladder's existence in the middle of nowhere, unknown. Is ladder on the map? You will have to attend event to find out.
---